Herculite® High Performance Tent and Structural Fabrics
The Herculite family of Structure and Tent Fabric brands offers a complete selection of high performance advanced technical textiles custom engineered specifically for the diverse needs of this market from clear span structures to party tents and sidewall applications. Herculite's Core Stabilized Process insures the highest level of dimensional stability and resistance to stretch for maximum performance of tent fabric.
Architent® Tent Fabric - engineered for maximum strength and durability, with Acrylic and PVDF top-coating options – perfect for fabric architecture and tension structures.
Showtime® Tent Fabrics – the standard for theme park and event tents. Showtime offers the largest in-stock color selection of tent top vinyl in the industry.
Architent® WideSide – the premier 90" and 98" seamless sidewall fabric in the industry, offering significant time and labor savings.
Custom Engineered Tent Fabric Products - Herculite's experienced product development staff can engineer a fabric to your specific requirements.


The Best Tent Fabric in the Industry!


With more than 30 years of experience in providing fabrics engineered specifically for the tent industry, Herculite knows how to provide what you need for optimal results.
Herculite Testimonials
Architent® High Performance Tent and Structural Fabric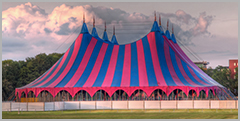 Architent® Tent and Structural Fabrics provide what is necessary for a design professional to effectively manage a project from the structural modeling and fabric specification phase to actually designing, fabricating, installing and finishing a project with more confidence than ever before.
The Architent® technology incorporates Herculite's proprietary PVC formulation for excellent resistance to ultra violet degradation and low cold temperature flexibility along with our mildew inhibitor treatments for maximum mildew and wick resistance. The Fluoroshield®, PVDF topcoat option provides maximum clean-ability and proven resistance to ultra violet rays and atmospheric pollutants for extended life of your tent fabric project.
Available in translucent and blackout options and in weights from 14 to 20 ounces. Architent® products are registered with a variety of government agencies, including the California Fire Marshal, NFPA, CPAI, Canadian NFPA, M2 and others.
Architent® Translucent - 14 ounce
Architent® Blackout – 16 ounce
Architent® Structural Clear – 13 ounce
Architent® Star-Free S83 – 18 ounce
Architent® Excel 18 - 18 ounce
Architent® Excel M Series Blackout - 20 ounce
Showtime® Theme Park and Event Tent Fabric
Showtime® tent fabric brands have been the standard for theme park and event applications for over 30 years.
The Showtime® brands provide excellent performance with a high gloss, ultra smooth surface and an extensive color offering. Available in translucent and blackout options and in weights from 14 to 18 ounces. Showtime® is available in 17 vivid, high gloss, standard color options!
Our Showtime® Star-Free DBO material provides the ultimate in blackout fabrics. Our proprietary process provides a double blackout system that increases the resistance to abrasion and light pin holes. This process increases the life of your tents for higher grade rentals.
Showtime® products are registered with a variety of government agencies, including the California Fire Marshal, NFPA, Canadian NFPA and others.
Showtime® II – 15 ounce Translucent
Showtime® S83 – 17 ounce Blackout
Showtime® S83 DBO – 19 ounce Blackout
Care and Cleaning »

Technical Data »
Warranty »
Architent® WideSide Sidewall System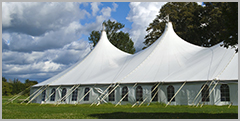 Architent WideSide® sidewall tent fabric offers a high gloss finish in both translucent and opaque options. We stock the WideSide in 90" and 98" widths and then we can produce custom widths to your specific needs. By eliminating seams in the height of your sidewall, your sidewall will not only be more visually appealing, you will reduce manufacturing labor costs up to 30% or more.
WideSide® is registered with California State Fire Marshal
WideSide® 90" – 10 ounce translucent, 10 ounce blackout
WideSide® Heavy Duty 98" – 13 ounce translucent, 13 ounce blackout
Custom Engineered Fabric
When a project requires specific features or attributes, our experienced development team will customize a product to meet your need. As you develop these new applications Herculite welcomes the opportunity to improve your bottom line.
Please contact Herculite's Customer Care Department at 1-800-772-0036