Understanding Banner Stands
A banner stand is probably the most basic marketing and advertising product any company owns.
---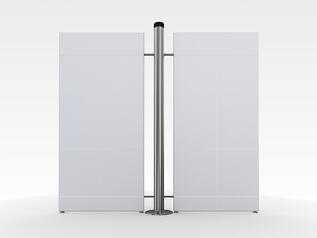 What fabric product do conferences, tradeshows, and events all share in common? Banners.
A banner is probably the most basic marketing and advertising product any company owns. Designed with logos, graphics, and a myriad of colors, and styles, banners come in a variety of shapes and sizes. Choosing the right material/product is the first step in ensuring your banner looks great.
Finding the right banner fabric is just a click away. Herculite Inc. offers its Bantex® Banner Media line of products which is a premier digital print media for all solvent based, UV curable and latex digital inkjet Bantex® Banner Media graphic fabrics are manufactured from the highest grades of polymer films to ensure ease of profiling and the highest resolution possible. These banners are excellent for any company's needs.
So, once you've chosen your banner fabric, how do you choose the right banner stand? The first step is understanding how banner products are displayed. Banners can be hung, stuck to a wall using tape, hooks or Velcro. They can also be put on a stand. Using a stand is one of the best ways to display a banner because it doesn't involve using glue, tape, or putting holes into your fabric banner.
When considering a banner stand, it's important to do your due diligence. Banner stands come in several types:
· Retractable – these are great because they are portable and the banner easily retracts into the stand. Retractable stands are perfect for the tradeshow or conference and the traveling executive.
· Non-retractable – these are excellent for your showroom floor or for your lobby. These types of banners can be hung or adhered to a wall. These can also be free-standing.
· Outdoor – perfect if you want to attract attention to your business using signs outside. These stands are flexible, durable and can stand up to wind, rain, and heat.
Remember the type of banner your using will affect the type of banner stand you will need. Outdoor banner stands are more flexible and can bend in the wind without breaking. Indoor banner stands range from a simple tent pole-like construction to complicated multi-part pieces.
Using the right banner stand will accentuate the banner and help keep it from getting damaged or from falling down. Some banner stands are made from metal, fiberglass, aluminum, and other materials. Remember, if you're using an outdoor banner choose a stand that can stand the elements.
Banner stands can be simple from your straightforward pull up design to more complex features like structural support frameworks, lights that you can add to showcase your banner, and so much more.
Even the base of your banner stand comes in different types. Some are wide and thick. Others have swiveling legs that you can turn out when in use and turn back in when stored. Some banner stands can be stuck into the ground like a stake – like when you're putting a sign on the lawn for an open house or when you're supporting a politician.
Another thing to keep in mind when understanding your banner stand is color scheme. Remember, choose a color that will match or accentuate your banner. You don't want the stand to take away from the nice design of your banner.
Also, when you purchase your banner, your manufacturer can provide you with the best banner stand options. Herculite Inc. offers a variety of banner and banner stand products. Visit www.herculite.com today for more information.