Banner Fabric - The Real Cost of Imports
Customers who decide to "save money" by using imported banner fabric find out that the supposed "savings" were never really there in the first place.
---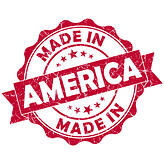 As a "Made in the USA" banner fabric manufacturer, our prices are higher than imports. There – I said it, and I am not embarrassed to do so. Far from it, in fact, because what we have found time and time again is that our customers who decide to "save money" by using low-priced imports always (eventually) find out that the supposed "savings" were never really there in the first place. This is why these clients continually return to the quality and performance of Bantex® and Printers Choice™.
Please allow me to give you one recent example: "Bill's" customers and pressmen have been complaining about the continual lowering of quality among their regular suppliers of banner vinyl, and know that the issues could be addressed by using a better grade of material. For many months, "Bill" has been arguing that his press time and spoilage costs outweigh the stock price differences, and now wanted to prove it. "Bill" says that the off-shore manufacturers, due to working off very low margins, make product changes to reduce costs and improve margins in any way that they can (but refuse to acknowledge that fact). These changes can, and often do, affect the quality of the product at press time – and the finished product. Often the product goes through three to four hands (e.g. the manufacturer, a broker, a distributor, etc.), who all need their cut of the profits. This can get pretty "muddy" as to which factory actually made the product, causing challenges with consistency, traceability, and accountability. In one case, an important customer complained that the surface texture and "hand" varied significantly from lot to lot. The supplier's response was that nothing has changed; however, "Bill" agrees with the client, that these variations exist. In another instance, fabric "layflat" problems accounted for a good portion of the "spoilage issues". Bill referred to this as a "loss of calendar days" and not just the cost of wasted media and ink -- a recent job that should have taken eight hours to run took over twelve hours. The third shift crew had to make the decision to pull the job off the screen press and move it to a digital printer. The result: higher costs and lower print speeds and a huge profit loss. This also cut into time that should have been allocated to other jobs, causing missed deadlines, overtime labor hours, and a very negative impact on customer satisfaction.

When probed about non-compliance issues, "Bill" commented that the "spoilage" percentage varies, however one job that was very fresh in his mind experienced 30% spoilage due to layflat issues. This becomes a finger-pointing exercise, where the print crew says that not enough material was ordered and the estimators defend their numbers and show how much material ended up in the trash can. The additional challenge was that now they had run through all of the material ordered for the job and had to order additional material to finish the job. Not only was the job late and the customer deadline missed, but they then received new material that did not look like (or print like) the rest of the job. It was a nightmare.
The answer, as "Bill" had predicted, was simply switching to Made in the USA Bantex® and Printers Choice™. Come and see what we mean. You're paying more than you think you are!