For more than 30 years, Herculite's popular Showtime® tent fabric brands have set the standard for theme parks and big event applications.
Showtime fabrics pair advanced engineering with bold color options to create the ideal performance fabric for semi-permanent and rental tents. It's no surprise that award-winning companies like Tentnology turn to Herculite for their outdoor performance fabric needs.
But what really makes Architent Showtime performance textiles the most desirable choice for theme parks, carnivals, rental companies, and other big-tent event enthusiasts?
Vibrant colors
You can't talk about Architent Showtime without first discussing color. With seventeen vivid, high-gloss hues available, Showtime offers the most expansive range of colors in the industry. Showtime colortones are bolder out of the box and each textile is formulated and finish-treated to stay colorfast for longer. For organizations that rely on color correctness in their branding, there's no better option.
Each color is available in both translucent and blackout fabric weights to meet your specific interior light needs. They're also well known for their ultra-smooth surface and glimmering sheen.
Heavyweight Architent Showtime textiles combine two of Herculite's most popular products into one fun-yet-formidable colorful material. Back those incredible hues up with the weather-ready toughness that made Architent brand fabric Herculite's leading outdoor structural fabric.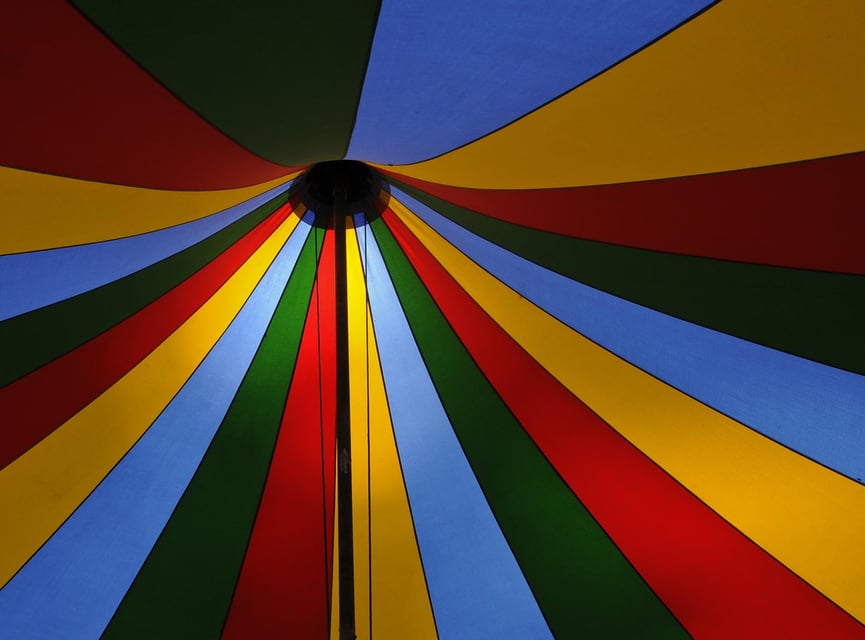 Durability
Herculite's outdoor performance fabrics are the strongest in the industry in terms of both tensile and tear strength. That means your Architent Showtime tent is better suited for high wind and pounding rain, not to mention the long term stresses of set up, breakdown, and transit. Herculite textiles are available in three grades of strength — standard, 30% greater, and 80% greater — for unmatched budget flexibility.
Pure tensile strength is important, but the little things matter, too. To eliminate unsightly pinholes and starry brights in tent fabric, Herculite created Architent StarFree Blackout technology for their outdoor textiles. If your tents are used for events that feature professional photographers, this feature is vital.
For extra-large applications, Architent® WideSide is a premier 90" and 98" seamless sidewall fabric that doesn't require welding to reach towering heights. In addition to better durability, this product feature can create significant time and labor savings.
Waterproof
There's water resistant and then there's waterproof — the difference matters. Architent acrylics are treated with patented Rain-Kleen PVDF top-coating to protect the material against the harshest elements for longer than any competitor. Rain-Kleen wicks away moisture, which keeps your tent fabric dry (and your guests happy) even during sustained rain. It also makes cleaning and maintenance easy.
Rain-Kleen PVDF is designed to stand up to high heat, low freezing temperatures, and extreme arid conditions. It's also essential for battling mold and mildew that can ruin tent fabric over time.




UV resistance
All Herculite tent and structure fabrics are custom-treated with a UV resistant finish to prevent fading and maximize the life of the material. Architent Showtime is no different.
This protection is especially vital in semi-permanent structures that will take on direct sunlight for weeks or months on end. UV protection slows chemical degradation and fights against fading, brittleness, and cracking.
Quality
All Herculite fabrics are American made for unmatched quality assurance and customer care. Our products are ISO 9001 certified and designed to exceed best practices set by the International Organization for Standards.
If you have problems with your tent material, Herculite offers an industry-leading warranty and hands-on customer service to make sure you're fully satisfied with your purchase. It's all part of why InTents Magazine named Herculite the "Best Tent Fabric Company" of 2019.
Conclusion
For more than three decades, a combination of advanced technology and creative vision have made Herculite's Showtime performance fabric a favorite for big tent fabricators. Now, with the added strength and durability of Architent technology, Herculite is showing why it has earned the center stage.


See what makes Architent Showtime fabric such a crowd pleaser for yourself. Request a quote.