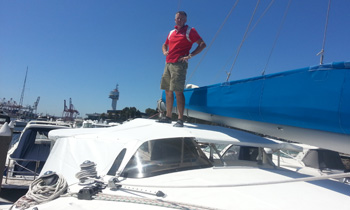 This Riviera Project Spotlight comes from Aussie Boat Covers in Melbourne, Australia. Neil Hancock is an expert Marine Trimmer and a 2013 STA & OFPANZ winner of Award of Excellence in Marine Fabrication. He recently used Riviera Marine Fabric on an impressive spray dodger for a sailing vessel and kindly shares his thoughts on using Riviera Marine Fabric:
"We recently completed a job using the Riviera fabric that we purchased from NolanUDA and were amazed at the usability of it. However the usability is only one of its many amazing attributes.
As a fabricator we trust that when a textile manufacturer like Herculite presents a new product, we take all you have said and then assess how it compares to others in the market place to determine whether it is workable or not.
Your competitor has established a foot hold in Australia and until now we have only used and recommended their fabric in a PVC application for marine fabrication.
My opinion has changed. It was a dream to cut and sew and it transitioned from the bench to the boat extremely easily, and did I mention the strength? I think that I can say with confidence that when my client wants a super strong product there is only one choice Herculite Riviera Marine Fabric.
I hope I'm not being to forward but you know how passionate I am about spreading the word of excellence and your product is a gem and is a winner for all fabricators who give it a fair shot and take the time to understand it.
Thank you and see you at the MFA Convention in Oakland." Neil
Project Name: Spray Dodger using Riviera Marine Fabric
Fabricator Name: Neil Hancock of Aussie Boat Covers
Fabricator Website: www.aussieboatcovers.com.au

FOR MORE INFORMATION ABOUT RIVIERA MARINE FABRIC